Our (your) house is in Alghero in the northwestern part of the Sardinian Island.
The geo-location values are:
Arriving from SP42
Commonly known as "dei due mari" i.e. "of the two seas"
The address in Alghero is: Strada Vicinale Poneddu Puntet, 20 – Zona Ungias
Our landline is +39 079 41 222 35.
Our portable number is +39 340 405 2766 available on What'sApp.
Our e-mail is Algheroinbicicletta@gmail.com
Take the roundabout that joins the SP42 and the SS291 in the direction of the junction indicated by the direction "Mamuntanas – Galanté". Going straight on, take the second turn on the right. This secondary route avoids the city traffic. It has a narrow passage only for one-way travel on 30 meters. At the end of this road, turn to the left and after a short hundred meters, turn right for Poneddu Puntet. Number 20 is on your left until you get home. This route is 3.2 km.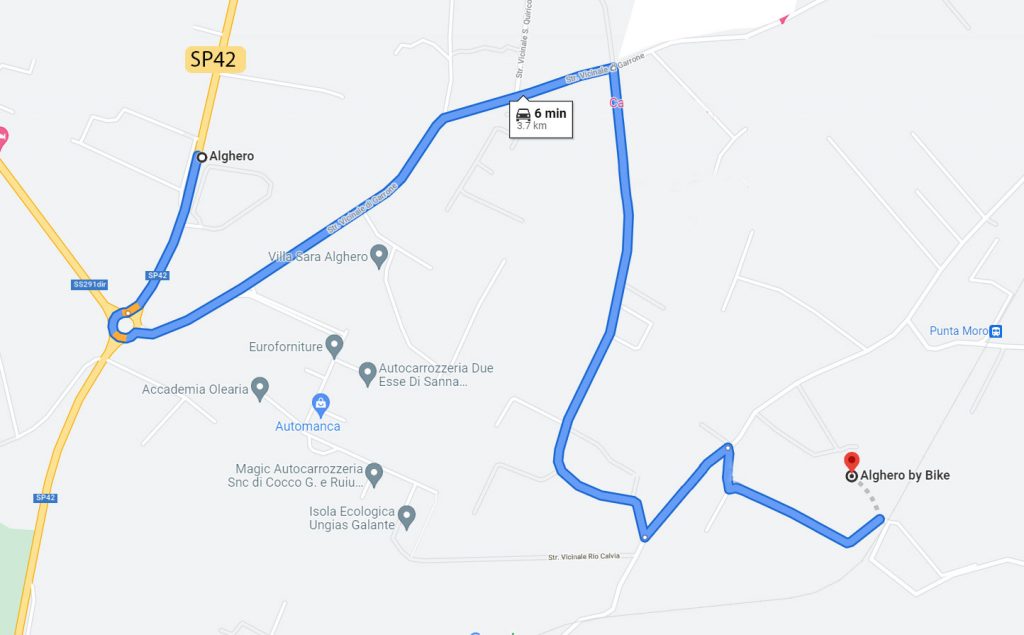 Coming from via Enrico Fermi
Coming from downtown
Coming from town, on the roundabout connecting via Don Minzoni to via Galileo Galilei, take the second exit to via Enrico Fermi straight to the end. The road continues into "Ungias Region". Pass the railway crossing and a small bridge (Poneddu Puntet). Going straight on, take the first turn on the right, (S.V. Poneddu Puntet) and then take to the left turns until you reach N° 20, where the house is. The route is only 2.1 km long.